Which Esprit brainwave entrainment unit do you have?
Several days ago I posted information about the Mastermind Esprit system by Synetic Systems (now known as Mindplace). This brainwave entrainment unit contained six sessions by Dr. Rayma Ditson-Sommer and was extremely popular.
Not long after that post went up I received an email from Deborah A. including pictures that showed her Esprit unit. It was different! Her Esprit did not have Mastermind Esprit shown on her unit, it had Synetic Esprit showing and her unit contained 12 sessions, not six.
Huh?
At my age forgetfulness is a reality (think CRS) no matter how many memory enhancement sessions I experience. And after 25 years in the light and sound industry there are plenty of things that have happened that I've totally forgotten about. That's why I have kept boxes piled with notebooks full of old news releases, brochures, product information and users guides and manuals. Not to mention old mind machines.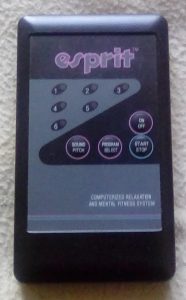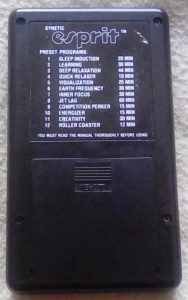 Deborah had asked if I had the 12 session Esprit manual because the post I made showed the Esprit 6 session owners manual. After delving through all the boxes stored from the 1990's through the early 2000's I came up empty. There was nothing written about the Synetic Esprit with 12 sessions, just information regarding the Mastermind Esprit with six sessions.
So dear readers, have a look at the pictures of Deborah's 12 session Synetic Esprit and should you have any information about that unit – especially the session list – could you please email it my way in care of store@mindmachines.com?
Both Deborah and I would be most grateful… Thanks!
Copyright: Michael Landgraf (CA) 2016. All rights reserved.