Description
The Bluetooth mindLightz Light and Sound System
 THE WORLD's FIRST AND ONLY WIRELESS MIND MACHINE!
The bluetooth mindLightz mind machine is wireless light and sound that operates via
Bluetooth Colormatrix lightframes
(offering over 500 different shades of color),
Bluetooth headphones
(no crackle, just pure audio) and your
iPhone 4S, iPad3, iPod5 or any newer iPhone/iPad running iOS 6.1+.
WHEN YOU PURCHASE YOUR MINDGEAR BLUETOOTH MINDLIGHTZ FROM MINDMACHINES.COM YOU ALSO RECEIVE:
FREE USPS PRIORITY MAIL SHIPPING TO ALL 50 U.S. STATES 

0% SALES TAX / EVEN IN CALIFORNIA WE PAY THE SALES TAX FOR YOU

EXCLUSIVE BONUS SET OF OUR MOST POPULAR AUDIO MP3 DOWNLOADS VALUED OVER $100.00… scroll down for complete information!
The mindLightz system by MindGear, Inc., is the first to employ Bluetooth technology for light and sound brainwave stimulation. For those of us who own an Apple product listed above, the mindLightz software is a free app available in iTunes that features easy to navigate selections including 83 built-in light and sound programs and manual control mode for designing your own personal light and sound programs. In addition, the user has full independent volume control for selecting 25 various ambient sound effects with any audio track from your iTunes library.
Your Audio MP3 Bonus Set includes:    
Light and Sound Voyager is 74 minutes of completely synergistic music and effects for any light and sound mind machine session. With six different tracks, it is the perfect companion. For example, listen to tracks 1, 2 and 3 with any energize / beta light and sound session and you will feel pumped. Tracks 4 and 5 will enhance any relaxation / alpha session and track 6, Slow Motion Nebula, is a visualization just waiting to happen. Try track 6 with any theta session and you will understand.
515 virtual Mindmachine contains five dual independent binaural beat audio frequency session tracks designed for listening through headphones or speakers. The 515 virtual Mindmachine Energize (Beta) MP3 Session is 10:09 minutes in length. The session is in dual independent binaural beat frequencies in the Beta and Beta/SMR brainwave range for increased mental and physical performance. The 515 virtual Mindmachine Alpha MP3 Session is 20:16 minutes in length and features dual independent binaural beat brainwave frequencies. Session frequencies range from 8-12Hz and is ideal for relaxed yet focused concentration. The 515 virtual Mindmachine Theta MP3 Session delivers brainwave frequencies in the 4-7Hz range via dual independent binaural beats. Session length is 10:10 minutes and useful for learning, memory and dealing with jet lag. Our 515 virtual Mindmachine Alpha / Theta MP3 Session is a 7:10 minutes long brainwave frequency audio program utilizing dual independent binaural beats in the 4-12Hz state of consciousness. The combination of accessing both states of consciousness is for inner-thought enhancement and creativity. And our 515 virtual Mindmachine Delta MP3 Session is a 26:10 minutes long brainwave frequency session designed for going to sleep. Use with speakers with the volume set no higher than the hum of a fluorescent light. The dual independent binaural beats utilized in designing this session range from .5-3Hz. Keep scrolling down for more that's included…
Also included in your Audio MP3 Bonus Set:
The Universal Frequency (432Hz) MP3 was designed by Christopher Oliver with the concept by Michael Landgraf. This multi-layered binaural beat MP3 session is based on the scientific evidence unearthed by researchers as they studied the Great Pyramid of Giza and the five other surrounding pyramids. By utilizing the frequency of the universe Mindmachines.com has developed a unique deeply relaxing experience. Session length: 17:44 minutes / Purpose: Deep Alpha & Theta Meditation.
Relajacion is our audio MP3 for overworked and overstressed people whose primary language is Spanish. Words spoken by Miguel Villalobos to lead you into a totally relaxed state of consciousness with music to help you maintain these relaxed sensations, this MP3 has 2 tracks: Relajacion: 22 minutos and Tecnica De Relajacion Total: 30 Minutos.
Classic Pranayama Yoga is a 12 minute MP3 audio session that assists you in the Art of Yoga Breathing. In a Yogic point of view, proper breathing is to bring more oxygen to the blood and the brain, and to control Prana, or the vital life energy. Pranayama Yoga also goes hand in hand with the Asanas. The union of these two Yogic Principles is considered the highest form of purification and self-discipline, covering both your mind and your body. This session combines verbal guidance with sounds of nature, music, bells and classic Pranayama breathing to maximize your session experience.
Ancient Sea: A Journey Through Mono Lake: This downloadable MP3 session is a 30:21 minute excursion to one of the oldest saline lakes in the United States. Breeding ground for several species of birds and home to dozens more, Mono Lake is located in the beautiful Eastern Sierras of California. This soundtrack includes alpha and theta brainwave frequencies blended with music and environmental sounds captured along the shores and tufa spires of Mono Lake. Perfect for relaxation, inspiring creativity and improving focus.
Ideal Self-Image is for trimming down weight. This 20 minute session utilizes natural sounds, soothing music, multiple bells and verbal suggestions, all combined with narrow band isochronic tones to help motivate you towards achieving your ideal weight.
Attention Deficit Disorder (ADD): This 20 minute downloadable session blends specific isochronic beats with soothing sounds of nature, occasional chirping of birds, relaxing Tibetan bells and beautiful music to gently guide listeners into a state of calm, focused awareness.
And there is still more audio MP3's for your library listed below…
No longer do you need a mind machine to enjoy experiencing the relaxing benefits of pulsed visual and audio brainwave stimulation.
Download the free bluetooth mindLightz app to view the owners manual, list of programs (including all four general brainwave states, combinations and programs specific to ADD/ADHD and PTSD) and the assortment of ambient sound effects (even including heart rate beats-per-minute selections).
Your Audio MP3 Bonus Set includes more!
LoopLogic Hz Dual Independent Binaural Beat MP3 Session Generator is an instant download MP3 file set broken into Gamma, High Beta, Beta, SMR, Alpha, Theta and Delta audio brainwave frequency categories. Each of the 37 tracks represent one hertz within each category and is created with dual independent binaural beat frequencies. Simply add these frequency tracks to your MP3 Player or playlist and program your playlist to create custom audio brainwave entrainment sessions.
Christopher Oliver and Michael Landgraf developed these 515 LoopLogic MP3 tracks for targeting specific frequencies within all brainwave states, enabling you to create personally designed sessions for use with eeg/neurofeedback training, incorporating into music, entraining audiences during presentations, physical workouts, meditation or for just making a good thing better. Applying these sessions have endless beneficial possibilities so use your imagination! Imagine combining these one hertz tracks as a sleep aid or for relaxation or adding to your learning, memory or creative skills!
The Art of Losing Weight is a 25 minute session combining the sounds of nature, music, unique tones and verbal suggestions to assist you in your quest for a slimmer you.
Weight Loss Series: There is no specific timetable for how long you should listen to each step. Some people may find listening to each session for only a few days or a week to suffice, others will want more time. That is only normal, after all, we all think differently, all react differently, so listen to your inner-voice and decide for yourself just how long listening to each particular session best meets your specific needs…
Lose weight step 1 is a 15 minute session to assist you in beginning your weight loss program. Combining suggestions, nature, music and tones, this session is designed to get you off on the right path. Lose weight step 2 is a 25 minute session, using the same approach as step 1, that will further strengthen your resolve to be a trimmer you. Lose weight step 3 will help you fight the urge to diverge from your goal. This 8 minute session is a powerful weight loss booster. Lose weight step 4 is the final stage in your quest for losing weight. 8 minutes in length, this session will help you maintain the motivation to meet your goal.
Deep Meditation is for centering, creative thought and relaxation. This 20 minute audio MP3 session takes you deep into the theta brainwave state, just above sleep. Many refer to this as the hypnogogic state, where ideas and revelations can occur. Combining the natural sounds of lakes, music for centering awareness and specially designed tones, you can experience a profound sense of relaxed tranquility.
Improving Motor Skills is a 30 minute MP3 audio frequency session designed for musicians to enhance their ability to play instruments, athletes for increasing their performance level and everyday people trying to make a good thing better.
View mindLightz for meditation
View mindLightz for post-operative pain and discomfort
The bluetooth mindLightz light and sound system available through Mindmachines.com comes complete with MindGear's  Colormatrix bluetooth light frames and headphones with free shipping to the entire United States.
And when you receive your order confirmation email with complete tracking information the following Mindmachines.com exclusive ebook will be included: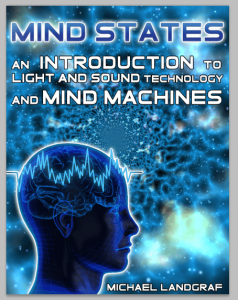 "Mind States: An Introduction to Light and Sound Technology" by Michael Landgraf in PDF format. Mind States will share with you everything you need to know to get started with your light and sound instrument and where to go to learn more! Over 100 pages of easy to understand information including a 30 Day Journal for you as you begin your light and sound experience.